Family therapy can help you and the ones you love.
Are you sick of your family's constant fighting?
Do you feel used by your family?
Are your children acting out or distant?
You're not alone. Many people, just like you, struggle with their families.
I've helped a lot of them. I can help you too.
Want to enjoy your family again?
Call me.
(562) 302-1788
What Family Therapy Can Do For You
Family therapy helps you fight less. It brings you closer together. It also helps you feel like you belong.
It helps teach you and your loved ones how to listen to each other non-judgmentally, how to offer useful, positive feedback, and ultimately how to communicate respectfully.
I can help you and your family:
develop effective parenting skills
learn to listen to one another
validate each other's feelings
avoid playing favorites with your kids
set clear boundaries
develop patience, tolerance, and sensitivity to each other's needs
Turn your anger and disappointment into a force for positive change in your family.
You won't just improve your lives today. You'll lead by example, giving your kids the tools they need to eventually be effective parents themselves.
Problems Family Therapy Addresses
Family is supposed to be safe. When we're around them, we want to be able to be ourselves and let down our hair. We yearn to be close.
Sometimes, things get in the way.
Your spouse may not see eye to eye with you. Your kids may be growing increasingly distant and distrustful. Whatever it is, it's tearing you apart. You want to fix it.
Among other problems, I can help you address things like:
misbehaving or disrespectful children
cultural differences in your marriage
poor parental role modeling
interference from extended family
taking work or school problems out on family members at home
abuse
miscommunication
No family is problem-free and happy all the time.
But, family therapy can help you and your family be happier and leave a better legacy for the children you love.
Get Family Therapy Today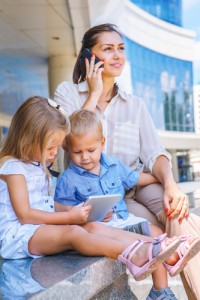 Family therapy will help you, your spouse, and your kids feel closer. You'll understand each other better, open up to one another, and develop newfound appreciation and respect for one another.
Your family is precious.
Call me.
(562) 302-1788